Post by Stan on Oct 23, 2005 14:45:22 GMT
Okay, everyone, here we go again! Remember now, these games are played in two week intervals now, not one. More time will be given for games that seem to deserve longer play time, and this may be one, but I can't say I've played it enough to know that or not. When I was younger, my brother and I picked up an excellent game for the Genesis called "Tyrants" (PAL people know it as Megalomania). It was an interesting game where you organized humans into little villages, mined for resources, built weapons, and destroyed your opponents' people. Quite a lot of fun, so when I saw something like this for the Master System (I guess it was also released in 16-bit format, but I never played it), I was pretty excited. I only played it for a little bit, but it seems to be quite an interesting game with plenty of potential. The box art is pretty epic looking. What am I talking about? Well, my friends, nothing other than....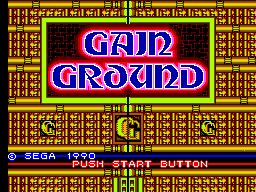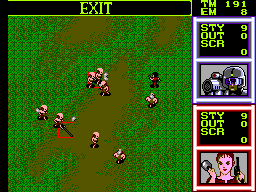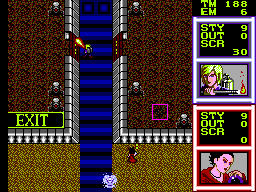 Gain Ground is part action, part strategy, as far as I can tell. I can't say what happens in the long run because I haven't played that far, but it presents quite well. You get to control and select different players to rescue friends, kill whatevers in front of you and make it to the end. Apparently, there are a massive 50 levels in this beast! Depending on who you save, you get different characters to fight with from spear throwing cavemen to laser wielding troopers. And, every 10 levels you face a giant freak of a boss! What fun! This game appears to have a ton of variety as well as plenty of strategy. Since it's the only game of it's kind for the Master System with the exception of Populous, I'm pretty excited to give it a more thorough go. Once you guys try it out, let me know if you think it warrants additional time, because it seems like it may. Start playing!