Post by Tonto on Mar 30, 2007 12:24:32 GMT
Ok Guys, sorry it's been a while in the coming.
I had a good think about it and, despite the desire to unearth some little gem for you all, I had to go for the only game I've been playing recently. Arguably the best game on the SMS. Ever! Now I'm as shocked as you are, that it hasn't been chosen before, but enough with the pleasantries. The game you must now play is:
"What's in me bowl, mate? Nothing at all"
Alex Kidd in Miracle World
Now, I could talk for a long time about the various parts of the game, but I imagine you all know the series pretty well, but to summarise, you play Alex Kidd, prince of the beautiful city of Radactian (also called Radaxian), who has been studying Shellcore "an ancient art that makes one strong enough to break rocks into pieces" on mount Eternal for seven years. As he sets off to go home a dying man tells him that Radactian is under grave danger from Janken the Great (obligatory evil tyrant). The man gives him a piece of map and a medallion made of sun-stone. Your job is to defeat Janken and his henchmen, find a letter and some medallions and faeces, rescue your brother and restore peace to the city.
For me, this is the "What might have been" of the sega master system. What might have happened if tonka hadn't made such a hash of marketing the system in the US? If Sega hadn't made two woefully weak sequels? If the game had got the recognition it deserved? Well, we probably wouldn't have this little classic all to ourselves.
Go on, Alex. Fly!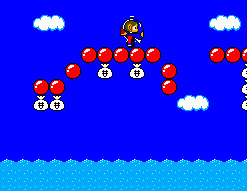 This is what I like about the game:
•
Controls
. These are spot on in terms of movement, the jump is big and height responds to the length of time the button is held down. Button 1 and 2 are swapped to jump and punch respectively, which is a little counter-intuitive so that takes a while to get used to.
•
Levels
. Great variety, the opening level sees you moving down instead of a straight left to right, which is a pleasant change. Add to that water, air and the castle levels (where you can go up, down, left and right) and you have a great selection of different environments.
•
Graphics
. Backgrounds are largely simple but the characters are big, bright and bold. Things move fast with virtually no sprite flicker, cracking stuff for 1986.
•
Music
is perfect, the main tune is catchy, but doesn't get annoying. And from the moment you hit the water and hear it change, you know it's going to be good. Great variation throughout the game. It changes to suit mood and situation. A total triumph for whatever basic music chip the SMS has.
•
Difficulty.
It's great in the sense that no particular boss or enemy is that hard to deal with, but the situations you find yourself in will be the things which make it hard. Like a lot of early games it's one hit kill, so if you slip, fall, or touch anything you shouldn't you're dead. I do find this game hard to complete, but the replay value doesn't seem to diminish at all.
•
Extras/originality.
Things like the Pedi-copter and motor cycle are just fantastic additions which really embellish the game. The control of the Pedi-copter is great. Really responsive and perfect for sneaking your way past the eagles and stone blocks. Instead of fighting the baddies at the end, you play them at 'Janken' (scissor, paper, stone), which makes a pleasant change.
All in all this is a fantastic game. It's everything I want a platform game to be; uncomplicated, yet tricky, easy to understand, yet hard to master. It has an overriding atmosphere which takes you to a different place, simpler times. Obviously a heavy dose of nostalgia is aiding my view, but play it and you'll love it. So sit back and enjoy the "What might have been" of the SMS back catalogue.