Post by Stan on Jun 12, 2005 20:43:56 GMT
Here we are again fellow freaks. What bowels of Master System history will I be taking you all this week? Perhaps a later release few of us have even seen? Les Schtroumpfs Autour du Hell? Fools! Can you not read, notice I said HISTORY. Several games came to mind before I did this, I even thought about it over my honeymoon, sad though it is. My first pick I decided against, after taking the time to play a nice little gem that seems to never be mentioned. I looked back far into the early years of the SMS, where here in America, as elsewhere, we were given quite a treat. What is it? What could I possibly have unearthed from the crypt? I have chosen to take thee, dear gamers, into the realm of a forgotten culture destroyed by Christian greed long ago, deep into....
[glow=yellow,2,300][shadow=red,left,300][/shadow]AZTEC ADVENTURE[/glow]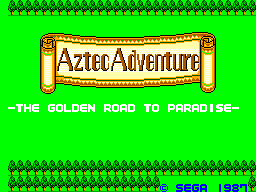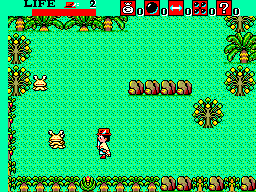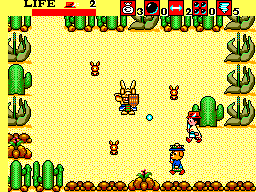 Aztec Adventure is quite a unique game. The story itself is interesting, and recalls, to me at least, classic games such as Pitfall II, Spelunker, and Load Runner. You control El Nino, a little south american chap who sets out to find the "Aztec Paradise," where loads of wealth await him.
Before you get there you first have to run through a number of large levels, each with its own unique "boss" type characters. This, I'm assuming though, as this game is quite a beast in terms of difficulty while you progress. At first you have to kill two man eating flowers, and then some ultra beast bats, and then this Aztec statue thing that shoots little men and simply destroys you. That's as far as I got. It really has a nice "old world game" feel to it that presents a simple concept in a new way. Really a great game.
Nino can walk about, slash his sword, and use a number of different power-ups, the majority of which are quite useful. Usually, the game will only provide what you need, but there are some things here and there that you are given to just use for whatever you find your fancy. One thing that is interesting is you can use the gold you collect to "buy" little buddies to walk around with you. I don't have the manual next to me, so I forget their names, but there are three animals. I seem to remember the dog being the most powerful. Regardless, each one requires his own amount of gold, and when you pay them they say "Oh!" and follow you around, slashing at the baddies until they die. In later levels they must be INTEGRAL, but I didn't think of this at the time, so tonight I'll try to dish them out to slam that third level boss.
The graphics in this game are splendid, though kind of flat in a way. Lots of nice colors, very bold, and a pretty impressive attempt at capturing Mexico and "Aztec" looking beasts.
The sound is equally as good as the graphics, and the tune is just enough to stick in your head without driving you insane. Pretty good job on the sound effects too. No problems here for me.
The gameplay is easy to get into, though the collison detection on Nino's sword seems off at times. You have to get pretty close to hit enemies and I would seem to always get hit myself now and then. Takes some time to get used to, but other than this it's easy to pick up and play without a manual. The difficulty level is just right, it's hard, but doesn't seem hard enough that you'll just want to kick it across the room and bury it with the Olmec culture or something. In fact, first time I really played it I died on the second level, but went right back into it from the start without being annoyed. That's a pretty big step for me.
Overall this is a splendid game in my opinion, and often overlooked. However, I cannot say I can give a thorough review of it without having gone through the entirety, but the first three levels present very well. I hope the rest of the game is just as good. I'll try to find out tonight. For the rest of you, UNEARTH THE AZTEC CULTURE!!!!