Post by playgeneration on Jun 19, 2007 21:16:39 GMT
At last it's my turn for the game of the month feature, you better sit comfortably, get a drink and something to eat, as I'm going in-depth on this one

I thought I would pick one of my favorite sms games, which sadly seems underrated by most people -
Operation Wolf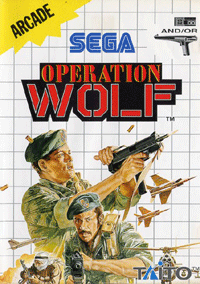 It was a massive hit in the arcades, there hadn't been a light gun game anything like it at the time, way back in 1987 the side scrolling first person viewpoint was a revelation. The original arcade machine had a fixed metal Uzi to fire with, which seemed very realistic and added to the whole experience.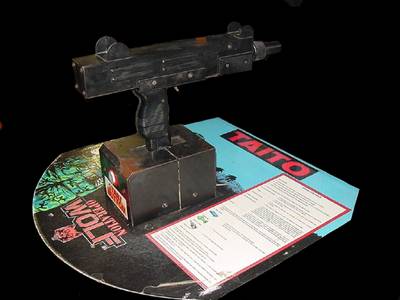 I played the arcade machine on holiday, thought it was amazing. and then knew I had to get myself a copy of the Master System version. And when later I did get The Light Phaser with Operation Wolf packed in for £14.99, I was not disappointed one bit.
Master System was not the first console to get a port of the game though, infact it was the very last. Amiga, Amstrad CPC, Atari ST, C64, MSX, Nes, DOS PC, PC Engine and Spectrum all had versions first. But the benefit of starting last is you can learn from everyone else's mistakes, and Sega really did bring us the definitive home version of Operation Wolf. Sure other versions had nicer graphics with the benefit of superior later hardware, but the sms version has the best gameplay, all the features of the arcade original and excellent graphics in its own right. And most importantly of all the sms version supports the light gun, no other version apart from the nes release had any gun support, and the nes release is just plain ugly in comparison.
Arcade -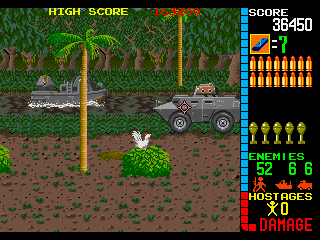 PC Engine -
Nes -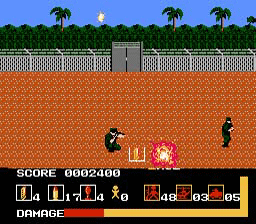 C64 -
Spectrum -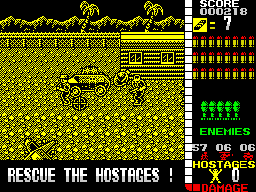 So what is Operation Wolf all about? - Your a lone soldier, sent into enemy territory to rescue hostages from an evil dictator and his own private army. Sound like an 80's action film right, well it sure plays like one, its you pitted against a huge seemingly impossible to overcome army, so the body count isn't going to be low, think Rambo, or Commando. If you leave the title screen you'll get a sequence of stills, showing your protagonist arming up, just like scenes from the aforementioned films, just one of many genius touches that make the game great.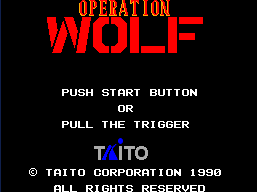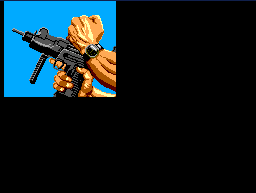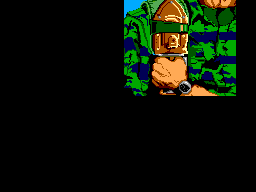 Upon starting the game you'll see your soldier parachuting down to earth, and then the action begins.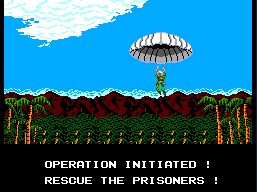 Your first mission is in an enemy base, right in the enemies stronghold, the game throws you right in the deep end, none of this easing you in slowly or rubbish tutorial levels of modern games here!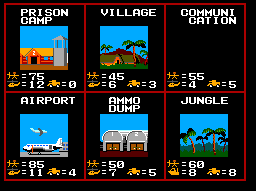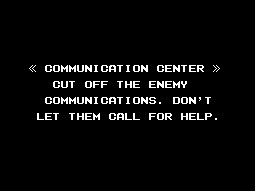 Theres tons of soldiers to shoot down, helicopters and tanks. While your gun can take soldiers out in one shot, and the shooting in this game is incredibly precise, the tanks and helicopters take lots of shots to take down. But luckily you also get grenades to throw, which take out these armored vehicles in one hit, and if timed correctly can take out two in one go.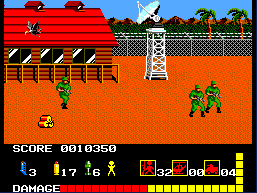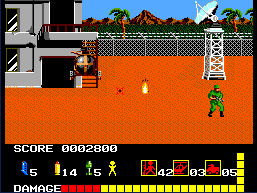 Because the light gun only has one button, grenade throwing is taken care of with the control pad. Pressing button 1 throws a grenade at wherever you have the gun aimed. While most would see this as a limitation of the gun not having a second button, I think it adds to the experience. You can keep the pad by your side, and reach for it just as if your reaching for a grenade strapped to you, take that Wii! My preferred set up is the controller (the fabulous megadrive arcade power stick naturally) on the floor, and a quick tap of the toe to launch a grenade.
While havinggrenades to throw makes the game sound too easy, you can't fire them constantly, you begin with a limited supply, so you have to use them strategically. Using them on the armed vehicles, or when your health is low and soldiers have ganged up on you is the best bet.
You can collect extra grenades scattered across the levels, and hidden inside passing animals - it's probably best not to think about how or why the grenades came to be inside these animals. You also have a limited supply of bullets, so you have to aim carefully, like grenades magazines of bullets can be collected from the floor or by shooting them out of passing birds.
As mentioned you also have a health bar, which decreases with every shot you take. So its wise to take out enemies as they appear and don't give them a chance to aim and fire at you. Once you have taken a certain amount of hits an alarm starts sounding, and increases in speed as you take more hits, which gives a great tense feeling as your struggling for life against the onslaught of enemy fire.
Once you complete the first level you are presented with a great looking screen showing you completing the mission. This happens after every level.
The second mission takes you to the jungle, which has a river in flowing through it. On the river huge armored boats float, ready to blow you to smithereens if you give them half a chance. As with the first level, civilians are also passing though, hitting any of them decreases your health. But in the heat of battle its all to easy to shoot a civilian when soldiers are running at you, this is where a cool head and a steady nerve come in handy!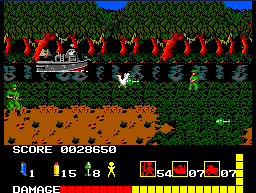 At the end of this level you'll come across a soldier holding a woman hostage. He is firing at you, but firing back wont be easy as he is using the woman as cover. You need to aim carefully at any part of him thats exposed, killing the hostage is not an option for a hero like yourself.
The rescued hostage will give you first aid, restoring your health, which comes in handy as you start each level with the damage you recieved from the previous one. While you can also collect health packs in levels, these are few and far between. If you should happen to be killed, you get one more chance to come back, apart from if you die on the last level where there is just one chance to get it right.
The third level is an ammunition dump, here you'll encounter soldiers with Armour on, killing them takes either several shots to the body, or one swift shot to the head. Upon completing the level you plunder the enemies ammunition stock, giving you plenty of ammo for the next level.
The fourth level is set in the concentration camp, it's time to rescue all the hostages. They have to walk across the screen to escape to safety. But since they have been mistreated they move slower than previous civilians. This makes it tougher to take out the enemy without hitting the hostage. The cunning enemy even use the hostage for cover, firing at you while near them. Theres even some enemies carrying knives who will execute the hostages rather than let them escape, its important to look out for them sneaking about and kill them before they carry out their orders.
The final level I shall leave up to you to discover. How well you do in this final chapter of the game also affects the end sequence, another innovative idea.
I really love this game, as you might have gathered by now, I think its not only the best light gun game for sms, but one of the very best light gun games of all time, right up there with House Of The Dead 2 and Virtua Cop 2.
The hectic fast paced action and deadly accurate shooting are superb, but what really makes this game stand out is the sheer variety of ways you can play it, there's even a surprise level that appears randomly, it ends up being different every time you play, something which most light gun games with their linear play don't manage.
Sadly for anyone in the US the game will only tease you with its excellence, for it crashes after the first or second level when played in NTSC. If your TV is capable of displaying PAL, then sort your console out and play this game, its just too good to miss out on.