Post by Geishaboy on Sept 11, 2005 8:39:47 GMT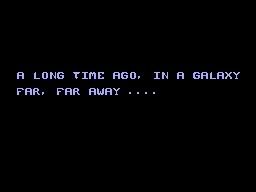 My choice for this game of the week is none other than nerd magnet movie franchise known as...
I was a real Star Wars nut when I was younger, so naturally my old man got me this game to keep me from tearing up the house out of boredom on Saturday mornings. God bless him. I spent alot of time playing this one, and it does take a decent amount of time to finish but not to long. It's not to easy, not to hard, it's just right.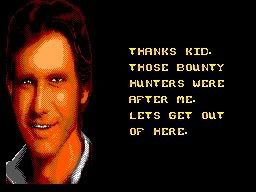 I bet you say that to ALL the Jedi
In the game you start of as young Luke hauling ass around that desert planet, I forget what it's called.
You have to go and find R2-D2 who gives you a message from Princess Leia about Obi-Won, after you find him
You finally get a light saber to replace the crappy gun you had before, although you can still use the weak-as-English-tea pistol if you want, but it does about as much damage to the enemies as harsh language. In short, the game follows the movie, more or less. One thing I must tell you before you play is that holding down button 1 while walking makes you run, when you are running, press button 2 (Jump) and you will do an Olympic level leap of faith, this is important because you NEED to use this function in various parts of the game.
Asteroid Field? Last time I get directions from a wookie..
a place where the game really shines is that you can, after you find them, switch between playing as Han Solo, Luke
and Princess Leia. So if one character gets a ass kicking, you can just use someone else who has more health, brilliant. Also, the game is quite varied with game play. Most of the time it is a classic side on plat-former, but it switches to a first person view, piloting the Millennium Falcon through an asteroid Field at one point, and blowing imperial bastards to the bowels of hell in another. Right at the very end you get a top down view of you rebel fighter as you try and blow up the Death Stars reactor via the air vent.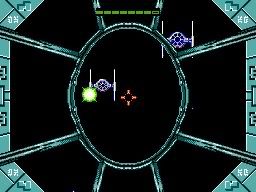 Road rage on an intergalactic level
At the end of the game,you are given a score out of 100, this tells you not how well you did, but interestingly, how much of the story you played out, how many events you experienced. If you get 100% then you are rewarded with a small cut scene from the end of the movie, where Princess Leia gives the boys a medal of honour.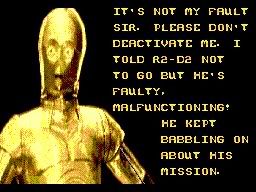 Never get a droid to do a mans job
I think what surprises me the most about this game is that for a movie franchise game it really shines, unlike some other terrible licensed games that I do not wish to mention. I would recommend this game to ANYONE, not just 28 year old Star Wars fans who still live in their parents basement.
(Edit: It's 8:45 sunday evening here in New Zealand, thats way different than most of you. I hope you dont mind, but I started the thread myself

)